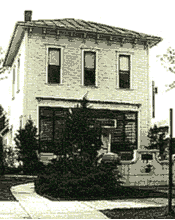 The New Carlisle Public Library was organized more than 90 years ago by The Progress Club, a group of women dedicated to improving themselves and the town. The women gave of their time and services to maintain a reading room over the Corner Drug Store.

For several years the ladies subscribed to the "Traveling Library" supplied by the State Library. Various fund raising events were held to pay for rent, lights, new books, and maintenance. The Reading Room moved to various locations throughout New Carlisle.  At times, the person renting the room would also act as a paid attendant. The women of the Progress Club would often volunteer their time to perform the duties of librarian.

In November 1936, the property at the corner of Main and Madison streets was purchased and remodeled with funds from the bequests of Frank Johnston and Annette Shroyer. The Library was then incorporated as the New Carlisle Public Library Association.
A Board of Trustees was formed to conduct the business of the Library. An application was made and accepted to receive funding from the Intangible Tax Program.

In 1938 Sylvia Schmidt was appointed as the first paid full-time librarian. Mrs. Schmidt served for 21 years.
In 1938 fund raisers were started by various churches to help with remodeling of the Library and to provide a meeting place in the new basement for the Boy Scouts. The City Council donated $500 for the project. A small house located at the back of the property was removed, a new basement was added and remodeling was completed. In 1970 the building was remodeled again by removing the second floor and creating a new front entrance.
The Library is currently funded through House Bill 146, which allows libraries a percentage of state income tax monies. The money is distributed monthly to Clark County and divided between the New Carlisle Public Library
In 1997 the Library received a Library Services and Construction Act Title II grant to build a new facility.  With the help of this new grant, the Library was then able to grow to serve the needs of our growing community.
Land was purchased on East Lake Ave to build our new library. In 1999, the library was complete and ready for patrons. However, we found that the library was growing even more and needed more room.
In 2003, an addition to the Library was completed by connecting the original library with the former doctors office next door.